By Nathan Hale · Jul 21, 2022, 3:28 PM EDT · Listen to article
The need to address the nation's aging infrastructure is one of the few topics that has drawn bipartisan support recently, but a rise in such projects usually results in an increase in government land takings to advance them.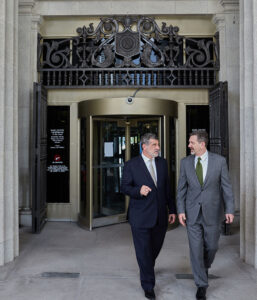 Veteran attorneys Mark A. Tobin and Robert A. Schreiber first joined forces with nationally recognized eminent domain firm Brigham Moore Gaylord Schuster Merlin & Tobin LLP, which shuttered in 2012. They recently seized on the national infrastructure focus to team up once again. Last month, they launched the Miami-based boutique Tobin & Schreiber PLLC, which will focus its efforts solely on representing property owners.
Schreiber previously served as chief eminent domain litigator of the Florida Department of Transportation for Miami-Dade and Monroe counties before spending two decades as a partner with leading eminent domain law firms. Tobin, who grew up observing his family's multigenerational real estate investment business, worked his way up to managing partner of Brigham Moore before stints at Akerman LLP and Greenberg Traurig LLP.
They spoke recently with Law360 about trends in eminent domain, including the impact of the current U.S. Supreme Court, keys to successfully defending against a government taking and negotiating a fair result, and pitfalls for owners to avoid along the way.
This interview has been edited for length and clarity.
The two of you worked together at the Miami-based law firm Brigham Moore. Is that how you met?
Mark Tobin: That's how we got to know each other closer professionally. I would admit that Mr. Schreiber was a painfully able adversary when he was running the Department of Transportation. So, given that I've only represented property owners, I was dealing with Bob on the other side. I think the mutual respect started there, but then we got to work together and took it to another level.
Brigham Moore was a leading firm in the field of eminent domain. What happened that caused it to close down in 2012?
Tobin: I would do anything to go back and have it. It was the number one [eminent domain] firm in the United States. Largest, oldest, most-qualified firm representing only property owners — not both sides of the fence, only property owners — in eminent domain and property rights protection matters.
It was founded by Toby Prince Brigham, God rest his soul. He recently passed away. He was clearly unquestionably the number one lawyer in the country in eminent domain. Everybody would say that. A true passion he had for the right of private ownership. We grew it around the entire state. We were handling cases all over the nation. We would get brought in, work well with co-counsel, and team up and just pound the other side.
The model worked. It went really well. What happened? The Great Recession happened. When the music stops and there's only two chairs and five people circling around and the government stops spending money because the Great Recession kicks in, it fractured tragically and everybody went off on their own.
A lot of our "competitors," they started doing government work or other areas of law. I didn't. That's not our game. We're never going to represent the government. We take pride in not representing the government and protecting the individuals.
How are current trends affecting eminent domain and how did that impact your decision to form your firm?
Tobin: Now, I would argue one of the only issues in Tallahassee and Washington that every single politician agrees on is the need to attend to the woefully unattended list of infrastructure projects that need to be provided. So infrastructure is a bipartisan issue. It's been funded.
Florida always garners a substantial pot of money over other states because of the growth of our state. We're building new interstate highways in Florida. And as of right now, there's jockeying for projects and advancing of the projects.
It's a very good time for us to be doing what we've got to do and tap into our resources and prior clients as we protect them early before the people starting knocking on the doors, so they don't hurt themselves.
Robert Schreiber: The courts, as you know, because of the pandemic were basically shut down in terms of trials for several years, and one of the first eminent domain cases that went to trial was just a few months ago. I had the privilege of being able to be involved in that. It was a multimillion-dollar case here in Miami-Dade County.
You may be aware that for eminent domain cases, you get a 12-person jury trial. Death penalty cases and eminent domain are the only two areas of the law in Florida that you get 12-person jury trials. We got a good result for a client. They were very happy.
[The case, Miami-Dade Expressway Authority v. Miami Vineyard Community Church Inc. et al., arose from a project to construct a new access ramp at the southern end of the Don Shula Expressway and widen SW 128th Street. The jury awarded the church more than $4.8 million as compensation for the parcels, plus statutory awards for attorney fees and expert costs.]
Tobin: Bob's being very humble. It was a very difficult case in that it was a partial taking from a church, and it's very difficult to do valuations of churches. But we got seven figures over their figure. He really did a fantastic job. Bob won't say that. I will. … He did a great job and nailed them at a figure they should have settled and avoided the whole thing.
How do eminent domain cases work in Florida, and how does it compare with other states?
Schreiber: [The situation is] very favorable in the state of Florida. Essentially, the government is obligated to pay the owners' attorney's fees, mostly because they didn't have a choice. The property is being condemned for a public project. And the fees are completely separate from the compensation that's paid to the clients. And in addition to attorney's fees, the government also has to pay all of their expert witness fees and costs.
So the property owners have absolutely no financial obligation whatsoever when they hire lawyers, and that's why it's very beneficial for them to get us involved in a case as early as possible. It's not going to cost them anything. We can give them advice. Oftentimes, they do things without knowing it prejudices their case, for instance appealing their taxes.
Tobin: The federal Constitution is the baseline — just compensation requirement of the Fifth Amendment. The Florida Constitution has full compensation. And in the Florida Supreme Court case Dade County v. Brigham [in 1950], Toby's father's house was taken. He told them what he wanted, they were unreasonable, and he went to trial. And then out of his compensation, he had a bag of bills. He said, "How is this full?"
So the court interpreted reasonable costs and fees of the owner, so that the owner can meet the government on "equal footing," is the words they used.
Because the government's got the owner's tax dollars for all of their experts, right? So that's why it's paid [by the state] in Florida.
Schreiber: Another difference in Florida, is that the owners are entitled to a jury trial if you don't settle the case, and that's also unique. In many other places, you have a judge or a panel of appraisers determine compensation, which is very prejudicial to property owners.
In terms of the law, what recent court decisions or changes have really altered the eminent domain field and are there some particular cases that you're following that could have an impact on the landscape and your practice?
Schreiber: The biggest, fairly recent change is that [Florida state and local] government can no longer condemn property to redevelop areas. They used to have the power to do that. They no longer do. And sometimes, oftentimes, in projects they try and do it circuitously. They'll have a road project, and the city's trying to clean up the area, so they'll try to condemn more property than they need for the actual road to try to revitalize an area, as they would call it.
I recently had an experience like that in Florida City, where [the Florida DOT] has got some projects and Florida City is trying to build affordable housing. They're trying to use those [transportation] projects to condemn properties that they don't like. So there's challenges for us. We have to try to prove that they don't need the property for the actual project that they're claiming in their petitions that they're condemning it for and they're really doing it to try to redevelop property.
Mark had cases in South Beach years ago, when the government was allowed to condemn property for redevelopment. They were condemning property in South Beach under the premise that the area was economically deprived, and those property owners got horribly taken advantage of. They had their properties taken and given to private property developers who built, you know, town homes and things. And that's some of the most valuable real estate in America.
Tobin: That was the Kelo case [Kelo v. New London at the U.S. Supreme Court in 2005]. [Susette Kelo] lost the battle, but property owners won the war as a result of her loss. That was the Connecticut case where the U.S. Supreme Court said, "We're not going to blanketly say that you can't take property for blight, but we're going to kick it back to the states," and then the state just ended [the practice] in Florida.
[The new state law and a corresponding amendment to the Florida Constitution stop] the government from being able to take a property and give it over for a long time to a private individual. We fought to get it approved, even though it hurt us financially. It was the right thing to do to eliminate the ability to do that.
Last year, the U.S. Supreme Court's decision not to hear a takings case, Eychaner v. City of Chicago, prompted three justices to write a dissent saying it should have taken up that case to correct a "mistake" made in Kelo. Do you think we're likely to see the current Supreme Court review Kelo?
Tobin: I don't want to speculate. What they're troubled by is stretching public purpose and public use past the lines it should go past. The vast majority of states shut down takings of private property for economic redevelopment [after Kelo].
Regardless of your political ideology, the right of private property and the freedom that comes along with it is precious, and it needs to be protected at all levels of government. It should be a point of agreement, not contention.
What shifts or impact do you anticipate in the eminent domain landscape with the current makeup of the U.S. Supreme Court and its recent rulings?
Tobin: It's a tough question. Generally, the conservative makeup of the court is likely to favor the protection of property rights and related interpretations and potentially be unfavorable to policy favoring climate change, environmental policies and other governmental efforts which burden private owners to foster long-term goals.
I think it's important to note that there are three branches of government, and it's important for each branch to handle its role. And with the brilliant checks and balances that exist in our Constitution, the process hopefully works itself out so that not any one of those branches oversteps their boundaries.
How does a hot real estate market or inflation impact eminent domain proceedings and issues such as determining fair market value?
Tobin: Right now I think it becomes even more important to hire lawyers that have depth of resources and practical experience because the minute you see a sale transaction that happened two months ago and the contract was six months ago before that, it's stale.
How do you max out unless you have access to real data? How do you max out unless you dig? There are leases that never see the light of day, there are sales that are under contract or option periods that you've got to get to. Our sophisticated clients deeply appreciate it because they know how hard it was to get that data.
In terms of getting that data, do you work with certain experts, or is it your own experience of where to look?
Tobin: It's relationships. It's being known for what we do throughout the entire state. It's having the credibility, for me, being from a family that's got a national, three generations in real estate investment/development background. So when I call, and I say I'm Ben Tobin's grandson, the phone gets picked up. If you send your appraiser to go ask somebody, they're not going to get a phone call return.
It's just what it is. It's tenacity and relationships and representing the right people. Toby Brigham instilled that in me and Bob. It's a cause. You can sit back and turn it over to appraisers and just listen to what they have to say, or you can dig.
Our philosophy, Bob and I, and it came from our earlier training, is that we work for you, you don't work for us. You roll the sleeves up, you get out there and you get it. That's what wins. Not sitting in your office and relying on experts alone to develop a theory for the highest and best use.
In South Florida, there's mostly redevelopment activity going on versus other parts of the state that have a lot of open land. How does eminent domain activity vary between these different types of environments?
Schreiber: There's probably more activity in places that are more congested, because that fosters the need to widen roads and build more schools and build more police stations. And because there's no land to expand and to build those things, they have to condemn property to expand the government's infrastructure.
At the same time, there are a lot of projects going on in the more rural counties, and they are also condemning property for those, but it's different types of property. It's usually agricultural or vacant land that they're condemning to build a new highway as opposed to condemning parking lots of shopping malls to widen an existing road.
Tobin: It's a full mix, and they're both important. Even though a piece of land is vacant, there could be certain things that you do or don't do that could dramatically enhance the land value so that when the government comes and opens up the door, there's a bazooka waiting for them.
That's part of that early strategic work that we do: maxing out, having data, having land leases to value land, not just comps.
What would you say is the balance of how often these matters do end up going to trial?
Schreiber: I used to work for DOT, so I have a little bit of inside information on how to get things settled. The vast majority of cases get settled either pre-suit or after suit has been filed. I would say less than 5% of the cases go to trial.
But we prepare as if it's going to go to trial and negotiate from a position of strength. We try to work on cases hard early. We get them early, and we try to resolve them even before there's a lawsuit filed.
Tobin: That's what distinguishes us from our competition. That practical experience also allows us to avoid the pain, energy loss and cost of litigating every single case.
Collectively, we have a lot of court experience. Bob's got extraordinary trial experience. And what we're known for, individually and together, is that we exhaust creative solutions, which once you get them, they're actually better than a home run jury verdict.
Trading land, coming up with governments taking drainage and then freeing up our pond on our site so we can put another outparcel — that's music to people in real estate. That's where I get excited. And then the government looks great. You can make it their idea. We're not proud. I don't care whose idea it is. I care about our client.
You've touched on owner missteps. What would you say are some things about eminent domain that nonexperts don't tend to know or understand that comes up a lot?
Schreiber: I think a common mistake people make is that they think that because the government is hiring what they say is an independent appraisal, that their appraisal must be somewhat reasonable. And what you don't realize is that the government uses the same appraisers over and over and over again. And the appraisers, they know that their job is basically to lowball property owners.
When I was at DOT, I worked with these people, and I saw what they did. They go out there and they imply to property owners, you know, "You don't need a lawyer. We're going to treat you fairly," and they imply that if they hire a lawyer, somehow they're going to get less money not more money and that they're going to take care of them.
And then they go back to their offices and they joke around about how they convinced them to take their offer, how they convinced them that because they were giving them a few percent over their appraisal, they're getting a great deal. And people think falsely that government wouldn't be that unfair.
We sometimes can be shocked about how unfair they are. And sometimes it's not intentional. They do mass appraisals like the tax assessors, and they don't spend the time like you would if you owned the property to really value it. And the truth is, the government expects you to do that. They appraised the property really as inexpensively as they can and they try to get their best deal, but they expect you to get a lawyer and they expect you to get your own appraisal report and they expect to negotiate with you. And to them, it's just a bonus if you were naive enough to accept their offer.
Tobin: Even if they negotiate, like you said, Bob, you're negotiating off a low number. So they can act like they're being generous by giving you 30% over. Thirty percent over nothing is like 100% below unreasonable.
And what happens — it's so sad; I've seen it over and over — where Bob and I have a client down the street and we nail it, and the poor person that thought they had a deal and they see what happened. It's too late. You get one bite at the apple.